Take a stroll in the woods to see the magnificent autumn leaf colours.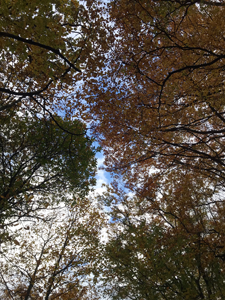 The Japanese have a word for this: Momijigari - meaning leaf-hunting or forest bathing.
As we head into autumn the amount of daylight reduces and the outside temperature starts to fall, the shrubs and trees prepare to shed their leaves. The green pigment in leaves is called chlorophyll, it's what a plant uses to convert sunlight into food. It takes quite a bit of energy to create chlorophyll, so before casting the leaves off the plant breaks down the chlorophyll molecules and reabsorbs them from the leaves, leaving behind the yellow, orange and red pigments (carotenoids and anthocyanins) in the leaf structure.
In the UK we are fortunate to never be too far from a lovely show of autumn colour, whilst there will be plenty of beautiful walks locally. I've listed below a few outstanding examples of autumn leaf colour display.
Before travelling to one of these destinations, please check their website for closing times. In autumn and winter they often close at dusk also check availability as some sites may restrict numbers, because they are carrying out forest maintenance, have an overwhelming number of visitors wanting to see the autumn colours, particularly at the weekend and some of the smaller sites don't have the capacity for large groups.