This page lists all of the plant photos that are in the photo database. If you want to search for a specific plant based on it's common name, botanic name or colour, click here. Clicking the plant names below will open the photo in a new window.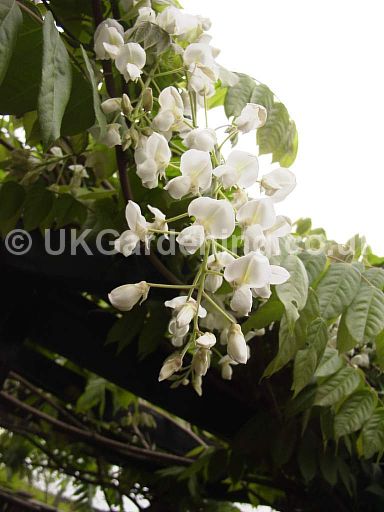 Picture title/object:
Wisteria brachybotrys 'Shiro Kapitan'
Picture taken by:
Nick
Picture taken on:
10/05/2003
Picture ref.:
407
This image has been reduced from the original by 50%
Click a plant name to see a larger version.
A conceptual garden at Hampton Court Palace Flower Show
A novel planting idea, displayed at the 2009 Hampton Court Palace Flower Show
A novel planting idea, displayed at the 2009 Hampton Court Palace Flower Show
A novel planting idea, displayed at the 2009 Hampton Court Palace Flower Show
A novel planting idea, displayed at the 2009 Hampton Court Palace Flower Show
A rose display to celebrate the 500th anniversary of Henry VIII's coronation. Taken in the Tudor Rose Festival Marquee at the 2009 Hampton Court Palace Flower Show
Abies (Fir)
Abies (Fir)
Acanthus spinosus (Bears breeches)
Acanthus spinosus (Bears breeches)
Acanthus spinosus (Bears breeches)
Acer (Maple)
Acer palmatum 'Seiryu' (Maple, Japanese maple)
Aegopodium podagraria (Ground Elder)
Aegopodium podagraria (Ground elder, Bishop's Weed)
Aesculus hippocastanum (Horse-chestnut)
Aeshna juncea (Common Hawker) - Dragonfly
Agapanthus africanus (African lily)
Agapanthus africanus (African lily)
Agapanthus africanus (African lily)
Agapanthus africanus (African lily)
Agapanthus africanus (African lily)
Agapanthus africanus (African lily)
Agapanthus africanus 'Black Pantha'
Agapanthus africanus 'Bressingham white' (African lily)
Agave
Agave
Agave attenuata
Ajuga reptans (Bugle)
Alcea (Hollyhock)
Alcea (Hollyhock)
Alcea (Hollyhock)
Alcea (Hollyhock)
Alcea (Hollyhock)
Alcea (Hollyhock)
Alcea (Hollyhock)
Alcea (Hollyhock)
Alcea (Hollyhock)
Alcea (Hollyhock)
Alcea (Hollyhock)
Alcea (Hollyhock)
Alcea (Hollyhock)
Alcea (Hollyhock)
Alcea (Hollyhock)
Alcea (Hollyhock)
Alcea (Hollyhock) seed pod
Alcea (Hollyhock) seed pod
Alcea (Hollyhock) seedling
Alcea (Hollyhock) with bumble bee
Alcea (Hollyhock) with bumble bee
Alcea (Hollyhock) with bumble bee
Alcea (Hollyhock) with bumble bee
Alliaria petiolata (Garlic Mustard)
Alliaria petiolata (Garlic Mustard)
Alliaria Petiolata (Garlic Mustard)
Alliaria petiolata (Garlic Mustard)
Allium cernuum (Nodding wild onion)
Allium cernuum (Nodding wild onion)
Allium cernuum (Nodding wild onion)
Allium cernuum (Nodding wild onion)
Allium cernuum (Nodding wild onion)
Allium 'Globemaster' AGM
Allium hollandicum 'Purple Sensation' (Ornamental onion)
Allium hollandicum 'Purple Sensation' (Ornamental onion)
Allium hollandicum 'Purple Sensation' (Ornamental onion)
Allium hollandicum 'Purple Sensation' (Ornamental onion)
Allium schoenoprasum (Chives)
Allium schoenoprasum (Chives)
Allium schoenoprasum (Chives)
Allium schoenoprasum (Chives)
Allium schoenoprasum (Chives)
Allium schoenoprasum (Chives)
Allium sphaerocephalon (Round-headed leek)
Allium sphaerocephalon (Round-headed Leek, Round-headed Garlic) syn. Allium sphaerocephalum
Allium sphaerocephalon (Round-headed Leek, Round-headed Garlic) syn. Allium sphaerocephalum
Almond
Almond
Amanita muscaria (Fly agaric)
Amanita muscaria (Fly agaric)
Amanita muscaria (Fly agaric)
Amaranthus caudatus (Love-lies-bleeding, Tassel Flower)
Anemone blanda
Anthurium
Anthurium
Antique tractor
Ants
Ants
Ants
Aquilegia (Columbine)
Aquilegia (Columbine)
Aquilegia (Columbine)
Aquilegia (Columbine)
Aquilegia (Columbine)
Aquilegia (Columbine)
Aquilegia (Columbine)
Aquilegia (Columbine)
Aquilegia (Columbine)
Aquilegia (Columbine)
Aquilegia (Columbine)
Aquilegia (Columbine)
Araucaria araucana (Monkey-puzzle)
Araucaria araucana (Monkey-puzzle)
Aster amellus
Aster amellus 'King George' [AGM]
Aster novi-belgii 'Marie Ballard'
Astrantia major
Astrantia major
Aubretia
Aucuba japonica 'Crotonifolia' (Spotted laurel)
Aucuba japonica 'Crotonifolia' (Spotted laurel)
Aucuba japonica 'Crotonifolia' (Spotted laurel)
Aucuba japonica 'Crotonifolia' (Spotted laurel)
Azalea
Azalea
Azalea
Azalea
Azalea
Azalea
Azalea
Azalea
Azalea
Azalea
Azalea
Azalea
Bambusa (bamboo)
Banana
Banana
Banana
Banana
Berberis thunbergii f. atropurpurea (Berberis, Purple berberis, Barberry, Purple Japanese barberry)
Berberis thunbergii f. atropurpurea (Berberis, Purple berberis, Barberry, Purple Japanese barberry)
Berberis thunbergii f. atropurpurea (Berberis, Purple berberis, Barberry, Purple Japanese barberry)
Berberis thunbergii f. atropurpurea (Berberis, Purple berberis, Barberry, Purple Japanese barberry)
Berberis thunbergii f. atropurpurea (Berberis, Purple berberis, Barberry, Purple Japanese barberry)
Bergenia (Elephant ears)
Bergenia cordifolia syn. Megasea (Saxifragaceae)
Bergenia cordifolia syn. Megasea (Saxifragaceae)
Bergenia syn. Megasea (Saxifragaceae)
Bergenia syn. Megasea (Saxifragaceae)
Beta vulgaris var. cicla (Swiss Chard)
Beta vulgaris var. cicla (Swiss Chard)
Beta vulgaris var. cicla (Swiss Chard)
Betula pendula (Birch)
Betula pendula 'Youngii' (Young's weeping birch)
Bibio marci (St. Mark's Fly)
Black Eyed Susan
Black Millet
Blackberry
Blackfly
Blackfly on floxglove
Blackfly on philadelphus
Blight on tomatoes
Blight on tomatoes
Blight on tomatoes
Blight on tomatoes
Blossom
Blossom
Blossom
Blossom
Blossom
Blossom
Blossom
Blossom
Bonsai
Bougainvillea glabra
Bougainvillea glabra
Bougainvillea glabra
Bougainvillea 'Purple-Robe'
Brachycome angustifolia
Brassica oleracea Acephala Group (Red Curly Kale)
Brassica rapa (Turnip)
Bread fruit
Bromeliaceae (Bromeliad)
Bromeliaceae (Bromeliad)
Brugmansia aurea (Angel's trumpet, trumpet flower, horn of plenty, Golden Angel's Trumpet)
Brugmansia aurea (Angel's trumpet, trumpet flower, horn of plenty, Golden Angel's Trumpet)
Buddleja
Buddleja
Bumble bee
Bumble bee
Bumble bee
Bumble bee on Hyacinth
Bumble bee on Hyacinth
Bumble bee on Thymus vulagris (Thyme)
Butterfly (Peacock)
Butterfly (Peacock)
Butterfly (Red Admiral)
Cabbage
Cabbage White caterpillar
Cabbage White caterpillar
Cabbage White caterpillar
Cacti
Cacti
Calendula officinalis (Marigold)
Callistemon citrinus (Bottlebrush)
Callistemon citrinus (Bottlebrush)
Caltha palustris (Kingcup, Marsh marigold)
Caltha palustris (Kingcup, Marsh marigold)
Caltha palustris 'Flore Pleno' (Kingcup, Marsh marigold)
Camellia japonica 'Contessa Lavinia Maggi'
Camellia japonica 'Gloire de Nantes'
Camellia japonica 'Gloire de Nantes'
Camellia japonica 'Gloire de Nantes' - seed pod
Campanula (Bellflower)
Campanula (Bellflower)
Campanula (Bellflower)
Campanula (Bellflower)
Campanula (Bellflower)
Campanula takesimana (Korean Bellflower, Bellflower)
Canna Lily
Canna lily poss. 'Bengal tiger'
Capsicum annuum (Bell pepper) - growing in the greenhouse
Caterpillar
Caterpillar
Caterpillar
Caterpillar eating hollyhock flower
Caterpillars eating tomato leaves
Caterpillars eating tomato leaves
Caterpillars eating tomato leaves
Caterpiller
Caterpiller
Caterpiller
Caterpiller
Caterpiller
Ceanothus (Californian Lilac)
Ceanothus (Californian Lilac)
Ceanothus (Californian Lilac)
Ceanothus (Californian Lilac)
Ceanothus thyrsiflorus var. repens [AGM] (Californian Lilac)
Centaurea nigra (Common knapweed, Hardheads)
Centaurea nigra (Common knapweed, Hardheads)
Centranthus ruber (Red Valerian)
Centranthus ruber (Red Valerian)
Centranthus ruber (Red Valerian)
Centranthus ruber (Red Valerian)
Ceratonia siliqua (Carob tree)
Cercis siliquastrum (Judas tree, Redbud)
Cercis siliquastrum (Judas tree, Redbud)
Chaenomeles (Quince)
Chaenomeles (Quince)
Chaenomeles 'In Variety' (Quince)
Chaenomeles 'In Variety' (Quince)
Chaenomeles 'In Variety' (Quince)
Chaenomeles japonica (Quince)
Chaenomeles japonica (Quince)
Chaenomeles japonica (Quince)
Chaenomeles speciosa (Ornamental quince, japonica, Japanese quince)
Chaenomeles speciosa (Ornamental quince, japonica, Japanese quince)
Chaenomeles speciosa (Ornamental quince, japonica, Japanese quince)
Chaenostoma cordata 'Snowflake' syn. Sutera cordata 'Snowflake' (Bacopa, Bacopa 'Snowflake')
Chaenostoma cordata 'Snowflake' syn. Sutera cordata 'Snowflake' (Bacopa, Bacopa 'Snowflake')
Chamaecyparis lawsoniana
Cherry
Cherry blossom
Cherry blossom
Cherry blossom
Cherry blossom
Choisya ternata (Mexican orange blossom)
Choisya ternata (Mexican orange blossom)
Choisya ternata (Mexican orange blossom)
Choisya ternata (Mexican orange blossom)
Choisya ternata (Mexican orange blossom)
Choisya ternata 'Sundance' (Mexican orange blossom)
Chrysanthemum
Chusquea culeou
Cistus (Rock rose)
Cistus (Rock rose)
Cistus (Rock rose)
Cistus (Rock rose)
Cistus x purpureus (Rock rose, Sun rose)
Cistus x purpureus (Rock rose, Sun rose)
Cistus x purpureus (Rock rose, Sun rose)
Cistus x purpureus (Rock rose, Sun rose)
Citrus sinensis (Sweet Orange)
Clematis
Clematis
Clematis
Clematis
Clematis
Clematis
Clematis
Clematis
Clematis alpina 'Columbine' (Old man's beard, Travellers' joy)
Clematis 'Arabella'
Clematis armandii
Clematis armandii
Clematis armandii
Clematis armandii
Clematis armandii
Clematis 'Cezanne'
Clematis 'Florida Sieboldii'
Clematis jackmanii
Clematis 'Lambton Park'
Clematis macropetala 'Lagoon' (Old man's beard, Travellers' joy)
Clematis 'Rebecca'
Clerodendrum thomsoniae (Bleeding-heart vine)
Clianthus punieus 'Albus'
Coconut palm
Coconut palm
Coconut palm
Colutea arborescens (Common bladder senna)
Colutea arborescens (Common bladder senna)
Common frog
Common Lizard
Common Lizard
Common newt
Compost bin (finish compost ready to be used)
Compost bin (just starting the composting process)
Compost bin (just starting the composting process)
Compost bin (just starting the composting process)
Compost bin (modular recycled plastic bins)
Compost bin (modular recycled plastic bins)
Compost bin (square pre-fabricated)
Compost bin (traditional heap)
Compost bin (traditional heap)
Compost bin (traditional heap)
Compost bin (traditional heap) - just emptied
Compost bin (traditional heap) - just emptied
Compost bin (tumbler bin)
Container display
Convallaria majalis (Lily-of-the-valley)
Convallaria majalis (Lily-of-the-valley)
Convallaria majalis (Lily-of-the-valley)
Convallaria majalis (Lily-of-the-valley)
Convallaria majalis (Lily-of-the-valley)
Cordyline australis (Cabbage palm)
Cordyline australis (Cabbage palm) - covered in snow
Cordyline australis 'Purpurea' (Cabbage palm)
Corylus avellana (Common Hazel) - catkins
Corylus avellana (Common Hazel) - Hazelnut catkins
Corylus avellana (Common Hazel) - Hazelnut catkins
Corylus avellana (Common Hazel) - Hazelnuts
Corylus avellana (Common Hazel) - Hazelnuts
Corylus avellana (Common Hazel) - Hazelnuts
Corylus avellana (Common Hazel) - Hazelnuts
Corylus avellana (Common Hazel) - Hazelnuts
Corylus avellana (Hazel) catkins
Corylus avellana 'Contorta' (Corkscrew hazel, Harry Lauder's walking stick)
Cosmos
Cosmos
Cosmos
Cosmos 'Sensation'
Cotoneaster simonsii
Courgette
Crab Apple
Crab apple blossom
Crab apple blossom
Crab apple blossom
Crab apple blossom
Crab apple blossom
Crab apple blossom
Crab apple blossom
Crab spider (Misumena vatia - female)
Crab spider on foxglove
Cricket on flowerpot
Cricket on lupin leaf
Crocosmia (Montbretia)
Crocosmia (Montbretia)
Crocosmia (Montbretia)
Crocosmia x latifolia 'Lucifer' (Montbretia)
Crocus
Crocus
Crocus
Crocus
Crocus
Crocus
Crocus
Crocus
Crocus and Snowdrop
Cucurbita pepo (Pumpkin)
Cucurbita pepo (Pumpkin)
Curcurbita (Marrow)
Cycas revoluta (Sago palm)
Cycas revoluta (Sago palm)
Cycas revoluta (Sago palm)
Cyclamen
Cyclamen
Cyclamen
Cyclamen purpurascens, syn. C. europaeum, C. fatrense
Cyclamen purpurascens, syn. C. europaeum, C. fatrense
Cytisus scoparius (Broom)
Cytisus scoparius (Broom)
Cytisus scoparius (Broom)
Cytisus scoparius (Broom)
Dahlia
Dahlia
Dahlia
Dahlia
Dahlia 'Arabian Knight'
Dahlia 'Geerlings Cupido'
Dahlia 'Golden Emblem'
Dahlia 'Topmix Red'
Daisy
Daisy
Daisy
Daisy
Daisy
Dandelion
Deer
Delphinium (early growth)
Delphinium (early growth)
Deutzia crenata
Deutzia gracilis
Deutzia gracilis
Deutzia gracilis
Deutzia gracilis
Deutzia gracilis
Deutzia gracilis
Dianthus
Dianthus
Dianthus
Dianthus chinensis
Diascia fetcaniensis
Diascia fetcaniensis
Dicentra spectabilis (Bleeding heart, Dutchman's trousers)
Dicentra spectabilis (Bleeding heart, Dutchman's trousers)
Dicentra spectabilis (Bleeding heart, Dutchman's trousers)
Difference in size of oak leaf
Digitalis purpurea (Foxglove)
Digitalis purpurea (Foxglove)
Digitalis purpurea (Foxglove)
Digitalis purpurea (Foxglove)
Digitalis purpurea (Foxglove)
Digitalis purpurea (Foxglove)
Digitalis purpurea (Foxglove)
Digitalis purpurea (Foxglove)
Digitalis purpurea (Foxglove)
Digitalis purpurea (Foxglove)
Digitalis purpurea (Foxglove)
Digitalis purpurea f. alba, syn. D.p. 'Alba', D.p. var. albiflora (Foxglove)
Digitalis purpurea f. alba, syn. D.p. 'Alba', D.p. var. albiflora (Foxglove)
Digitalis purpurea f. alba, syn. D.p. 'Alba', D.p. var. albiflora (Foxglove)
Dilophus fibrilis (Fever Fly)
Dryopteris lacera (Fern)
Dryopteris lacera (Fern)
Dryopteris lacera (Fern)
Dryopteris lacera (Fern)
Dryopteris lacera (Fern)
Duck
Duck
Duck
Duck
Duck
Duck with chicks
Duck with chicks
Echinops ritro (Thistle, Globe Thistle)
Echinops ritro (Thistle, Globe Thistle)
Elephant statue from 2009 Hampton Court Palace Flower Show
Enallagma cyathigerum (Common blue damselfly)
Enallagma cyathigerum (Common blue damselfly)
Erica (Heath, Heather)
Erica (Heath, Heather)
Erica (Heath, Heather)
Erica (Heath, Heather)
Erica (Heath, Heather)
Erica (Heath, Heather)
Erica (Heath, Heather)
Erica (Heath, Heather)
Erigeron glaucus (Fleabane, Mexican fleaband, Seaside daisy, Australian daisy)
Erigeron glaucus (Fleabane, Mexican fleaband, Seaside daisy, Australian daisy)
Erigeron glaucus (Fleabane, Mexican fleaband, Seaside daisy, Australian daisy)
Erigeron glaucus (Fleabane, Mexican fleaband, Seaside daisy, Australian daisy)
Erythronium kondo (Dog's Tooth Violet)
Eupeodes corollae syn. Metasyrphus corollae (Hoverfly). Whilst it may look like a wasp, it is actually a hoverfly.
Euphorbia
Euphorbia
Euphorbia
Euphorbia milii var. splendens (Coronne des Epines)
Euphorbia milii var. splendens (Coronne des Epines)
Fagus sylvatica (European beech, Common Beech)
Fagus sylvatica (European beech, Common Beech) hedge
Fagus sylvatica (European beech, Common Beech) hedge
Fagus sylvatica (European beech, Common Beech) hedge cutting
Fagus sylvatica (European beech, Common Beech) hedge cutting
Fagus sylvatica (European beech, Common Beech) hedge cutting
Fagus sylvatica (European beech, Common Beech) hedge cutting
Fagus sylvatica (European beech, Common Beech) hedge cutting
Fagus sylvatica (European beech, Common Beech) hedge cutting
Fagus sylvatica (European beech, Common Beech) hedge cutting
Fagus sylvatica purperea (Purple beech)
Fagus sylvatica purperea (Purple beech)
Fagus sylvatica var. heterophylla (Beech)
Fairy statue from 2009 Hampton Court Palace Flower Show
Fallopia japonica syn. Polygonum cuspidatum (Japanese knotweed)
Fallopia japonica syn. Polygonum cuspidatum (Japanese knotweed)
Fallopia japonica syn. Polygonum cuspidatum (Japanese knotweed)
Fatsia japonica (Castor oil plant)
Fencing
Fencing
Fennel (seedhead)
Fern
Fern
Fig
Forget-me-not
Forget-me-not
Forget-me-not
Formal arch in Hampton Court Palace Gardens
Formal garden in Hampton Court Palace Gardens
Formal garden in Hampton Court Palace Gardens
Formal garden in Hampton Court Palace Gardens
Formal garden in Hampton Court Palace Gardens
Forsythia x intermedia
Forsythia x intermedia
Forsythia x intermedia
Forsythia x intermedia
Forsythia x intermedia 'Golden Bells'
Fremontodendron californicum 'California Glory' (California Flannel Bush)
Fremontodendron californicum 'California Glory' (California Flannel Bush)
Fremontodendron californicum 'California Glory' (California Flannel Bush)
Fritillaria imperialis 'Lutea' (Crown Imperial)
Fritillaria meleagris (Snake's-head fritillary)
Fritillaria meleagris (Snake's-head fritillary)
Fritillaria meleagris (Snake's-head fritillary)
Fritillaria meleagris (Snake's-head fritillary)
Frozen shrub
Frozen shrub
Frozen shrub
Frozen water
Frozen water
Frozen water
Fuchsia
Fuchsia
Fuchsia
Fuchsia
Fuchsia
Fuchsia
Fuchsia
Fuchsia
Fuchsia
Fuchsia 'Dollar Princess'
Galanthus nivalis (Snowdrop)
Galanthus nivalis (Snowdrop)
Galanthus nivalis (Snowdrop)
Galanthus nivalis (Snowdrop)
Galanthus nivalis (Snowdrop)
Galanthus nivalis (Snowdrop)
Galanthus nivalis (Snowdrop)
Galanthus nivalis (Snowdrop)
Garden design
Garden design
Garden design
Garden design
Garden design
Garden lighting!!
Garden roller
Gazania
Gazania
Gazania
Gazania
Geranium
Geranium
Geranium (Cranesbill)
Geranium (Cranesbill)
Geranium (Cranesbill)
Geranium (Cranesbill)
Geranium (Cranesbill)
Geranium (Cranesbill)
Geranium (Cranesbill)
Geranium (Cranesbill)
Geranium 'Johnson's Blue' (Cranesbill)
Geranium 'Johnson's Blue' (Cranesbill)
Gerbera (African daisy)
Gerbera (African daisy)
Gerbera (African daisy)
Gerbera (African daisy)
Gladiolus communis (Gladioli)
Gladiolus communis (Gladioli)
Gladiolus communis (Gladioli)
Goblin statue from 2009 Hampton Court Palace Flower Show
Goblin statue from 2009 Hampton Court Palace Flower Show
Grass
Grass roof
Grass snake
Green moth, found on the ground in the morning
Green moth, found on the ground in the morning
Green moth, found on the ground in the morning
Green shield bug eggs Palomena prasina
Green shield bug eggs Palomena prasina
Greenfly on lupin
Greenfly on lupin
Gunnera manicata
Gunnera manicata
Gunnera manicata
Hebe
Hebe
Hebe
Hebe
Hebe
Hebe
Hebe
Hebe
Hebe
Hebe
Hedera helix 'Goldheart' (Common english ivy)
Helenium autumnale
Helenium autumnale 'Moerheim Beauty' (Sneezeweed)
Helianthemum nummularium 'Wisley Primrose' (Cistus, Rock rose)
Helianthemum nummularium 'Wisley Primrose' (Cistus, Rock rose)
Helianthus annuus (Sunflower)
Helianthus annuus (Sunflower)
Helianthus annuus (Sunflower)
Helianthus annuus (Sunflower)
Helianthus annuus (Sunflower)
Helianthus annuus (Sunflower)
Helianthus annuus (Sunflower) fading flower head
Helianthus annuus (Sunflower) seedlings
Helleborus foetidus (Stinking hellebore)
Helleborus foetidus (Stinking hellebore)
Helleborus foetidus (Stinking hellebore)
Helleborus foetidus (Stinking hellebore)
Helleborus foetidus (Stinking hellebore)
Helleborus orientalis (Christmas rose, Lantern rose, Hellebore)
Helleborus orientalis (Christmas rose, Lantern rose, Hellebore)
Helleborus orientalis (Christmas rose, Lantern rose, Hellebore)
Helleborus orientalis (Christmas rose, Lantern rose, Hellebore)
Helleborus orientalis (Christmas rose, Lantern rose, Hellebore)
Helleborus orientalis (Christmas rose, Lantern rose, Hellebore)
Helleborus orientalis [AGM] (Christmas rose, Lantern rose, Hellebore)
Helleborus orientalis [AGM] (Christmas rose, Lantern rose, Hellebore)
Helleborus orientalis [AGM] (Christmas rose, Lantern rose, Hellebore)
Helleborus orientalis [AGM] (Christmas rose, Lantern rose, Hellebore)
Helleborus orientalis [AGM] (Christmas rose, Lantern rose, Hellebore)
Helleborus orientalis [AGM] (Christmas rose, Lantern rose, Hellebore)
Hemeocallis (Daylily)
Hemeocallis (Daylily)
Hemeocallis fulva (Daylily)
Hemeocallis fulva (Daylily)
Hemeocallis fulva (Daylily)
Hemerocallis (Daylily)
Hemerocallis (Daylily)
Hemerocallis (Daylily)
Hemerocallis (Daylily)
Hemerocallis (Daylily)
Hemerocallis (Daylily)
Hemerocallis fulva (Daylily)
Hemerocallis fulva (Daylily)
Hemerocallis fulva (Daylily)
Heron
Heron
Heron trying to catch fish
Heuchera
Hibiscus (Tree Hollyhock)
Hibiscus (Tree Hollyhock)
Hibiscus (Tree Hollyhock)
Hibiscus (Tree Hollyhock)
Hibiscus (Tree Hollyhock)
Hibiscus (Tree Hollyhock)
Hibiscus (Tree Hollyhock)
Hibiscus (Tree Hollyhock)
Hibiscus (Tree Hollyhock)
Hibiscus (Tree Hollyhock)
Hibiscus (Tree Hollyhock)
Hibiscus syriacus 'Blue Bird', syn. H.s. 'Oiseau Blue' (Tree Hollyhock)
Hibiscus syriacus 'Blue Bird', syn. H.s. 'Oiseau Blue' (Tree Hollyhock)
Hibiscus syriacus 'Blue Bird', syn. H.s. 'Oiseau Blue' (Tree Hollyhock)
Hibiscus syriacus 'Blue Bird', syn. H.s. 'Oiseau Blue' (Tree Hollyhock)
Hibiscus syriacus 'Blue Bird', syn. H.s. 'Oiseau Blue' (Tree Hollyhock)
Hibiscus syriacus 'Blue Bird', syn. H.s. 'Oiseau Blue' (Tree Hollyhock)
Hibiscus syriacus 'Blue Bird', syn. H.s. 'Oiseau Blue' (Tree Hollyhock)
Hibiscus syriacus 'Blue Bird', syn. H.s. 'Oiseau Blue' (Tree Hollyhock)
Hibiscus syriacus 'Blue Bird', syn. H.s. 'Oiseau Blue' (Tree Hollyhock)
Hibiscus syriacus 'Blue Bird', syn. H.s. 'Oiseau Blue' (Tree Hollyhock)
Hieracium pilosella (Hawkweed)
Hosta
Hosta
Hosta (Plantain lily, Funkia)
Hosta (Plantain lily, Funkia)
Hosta (Plantain lily, Funkia)
Hosta 'Crested Surf'
Hosta 'Francee'
Hosta 'Krossa Regal' [AGM] (Plantain lily, Funkia)
Hosta 'Pinwheel'
Hosta 'Tardiana group' (Plantain lily, Funkia)
Hosta 'Yellow River'
Hottonia palustris (Water Violet, Featherfoil)
Hottonia palustris (Water Violet, Featherfoil)
Hottonia palustris (Water Violet, Featherfoil)
Houttuynia cordata 'Variegata'
Houttuynia cordata 'Variegata'
Hyacinthoides hispanica, syn. Endymion hispanicus, Scilla campanulata, S.hispanica (Spanish bluebell)
Hyacinthoides hispanica, syn. Endymion hispanicus, Scilla campanulata, S.hispanica (Spanish bluebell)
Hyacinthoides hispanica, syn. Endymion hispanicus, Scilla campanulata, S.hispanica (Spanish bluebell)
Hyacinthoides hispanica, syn. Endymion hispanicus, Scilla campanulata, S.hispanica (Spanish bluebell)
Hyacinthoides hispanica, syn. Endymion hispanicus, Scilla campanulata, S.hispanica (Spanish bluebell)
Hyacinthoides hispanica, syn. Endymion hispanicus, Scilla campanulata, S.hispanica (Spanish bluebell)
Hyacinthoides hispanica, syn. Endymion hispanicus, Scilla campanulata, S.hispanica (Spanish bluebell)
Hyacinthoides non-scripta syn. Scilla non-scripta (English bluebell)
Hyacinthoides non-scripta syn. Scilla non-scripta (English bluebell)
Hyacinthoides non-scripta syn. Scilla non-scripta (English bluebell)
Hyacinthoides non-scripta syn. Scilla non-scripta (English bluebell)
Hyacinthoides non-scripta syn. Scilla non-scripta (English bluebell)
Hyacinthoides non-scripta syn. Scilla non-scripta (English bluebell)
Hyacinthus orientalis (Hyacinth, Dutch Hyacinth)
Hyacinthus orientalis (Hyacinth, Dutch Hyacinth)
Hyacinthus orientalis (Hyacinth, Dutch Hyacinth)
Hyacinthus orientalis (Hyacinth, Dutch Hyacinth)
Hydrangea
Hydrangea
Hydrangea
Hydrangea
Hydrangea
Hydrangea
Hydrangea
Hydrangea
Hydrangea quercifolia (Lace cap hydrangea)
Hydrangea quercifolia (Lace cap hydrangea)
Hypericum 'Hidcote' (St. John's Wort, Aaron's beard, Rose of Sharon)
Hypericum 'Hidcote' (St. John's Wort, Aaron's beard, Rose of Sharon)
Hypericum 'Hidcote' (St. John's Wort, Aaron's beard, Rose of Sharon)
Hypericum 'Hidcote' (St. John's Wort, Aaron's beard, Rose of Sharon)
Hypochaeris radicata (Cat's-ear)
Hypochaeris radicata (Cat's-ear)
Hypochoeris radicata (Cat's-ear)
Hypochoeris radicata (Cat's-ear)
Ilex (Holly)
Ilex (Holly)
Ilex (Holly)
Ilex (Holly)
Ilex (Holly)
Ilex (Variegated holly)
IMG_0950-blossom-01
Impatiens walleriana (Busy Lizzie)
Ipomoea
Ipomoea hederacea (Morning glory)
Ipomoea hederacea (Morning glory)
Ipomoea hederacea (Morning glory)
Ipomoea hederacea (Morning glory)
Iris
Iris
Iris
Iris
Iris
Iris
Iris
Iris
Iris
Iris
Iris
Iris
Iris
Iris
Iris
Iris
Iris
Iris ensata (Japanese clematis flowered iris, Japanese iris)
Iris ensata (Japanese clematis flowered iris, Japanese iris)
Iris graminea (Iris)
Iris graminea (Iris)
Iris graminea (Iris)
Iris laevigata 'Colchester' (Japanese iris, iris)
Iris laevigata 'Colchester' (Japanese iris, iris)
Iris laevigata 'Colchester' (Japanese iris, iris)
Iris laevigata 'Colchester' (Japanese iris, iris)
Iris laevigata 'Colchester' (Japanese iris, iris)
Iris pseudacorus (Yellow flag iris)
Iris pseudacorus (Yellow flag iris)
Iris pseudacorus (Yellow flag iris)
Iris pseudacorus (Yellow flag iris)
Iris pseudacorus (Yellow flag iris)
Iris pseudacorus (Yellow flag iris)
Isotoma 'Avantgarde Blue'
Isotoma 'Avantgarde Blue'
Kerria japonica var. japonica with Chaenomeles speciosa (Japanese quince)
Kerria japonica var. Japonica with Chenomeles speciosa growing through
Knarled bark of tree
Kniphofia (Red hot poker, torch lily)
Lactuca sativa (Lettuce)
Ladybird
Ladybird
Ladybird
Ladybird (14 spot) on lily
Ladybird (14 spot) on lily
Ladybird (14 spot) on lily
Ladybird (2 spot)
Ladybird (2 spot) on sweet pea
Ladybird (7 spot)
Ladybird (7 spot)
Ladybird (7 spot)
Ladybird (7 spot)
Ladybird (7 spot) on philadelphus
Ladybird (Harlequin) - Harmonia axyridis
Ladybird (Harlequin) - Harmonia axyridis
Ladybird (Harlequin) - Harmonia axyridis
Ladybird (Harlequin) - Harmonia axyridis
Ladybird (Harlequin) - Harmonia axyridis
Ladybird (Harlequin) - Harmonia axyridis
Ladybird (Harlequin) - Harmonia axyridis
Ladybird (Harlequin) - Harmonia axyridis
Ladybird (Harlequin) - Harmonia axyridis
Ladybird (Harlequin) - Harmonia axyridis
Ladybird (Harlequin) - Harmonia axyridis
Ladybird (Harlequin) - Harmonia axyridis
Ladybird (Harlequin) - Harmonia axyridis
Ladybird (Harlequin) - Harmonia axyridis
Ladybird (Harlequin) - Harmonia axyridis
Ladybird (Harlequin) - Harmonia axyridis
Ladybird (Pine) on philadelphus
Ladybird larvae
Ladybird larvae
Ladybird larvae
Lamium album (White Dead Nettle)
Lamium album (White Dead Nettle)
Landscape with bluebells
Landscape with bluebells
Landscape with bluebells
Lantana camara
Lantana camara
Lantana camara
Lantana camara
Lantana camara
Large beefsteak tomato
Large beefsteak tomato cut in two
Lathyrus odoratus (Sweet pea)
Lathyrus odoratus (Sweet pea)
Lathyrus odoratus (Sweet pea)
Lathyrus odoratus 'Fragrant skies' (Sweet pea)
Lathyrus odoratus 'Melody' (Sweet pea)
Laurel
Laurus (laurel) in flower
Lavandula angustifolia (Common or English lavender)
Lavandula angustifolia (Common or English lavender)
Lavandula angustifolia (Common or English lavender)
Lavandula angustifolia (Common or English lavender)
Lavandula angustifolia (Common or English lavender)
Lavandula angustifolia (Common or English lavender)
Lavandula angustifolia (Common or English lavender)
Lavandula angustifolia (Common or English lavender) with Bee
Lavandula angustifolia (Common or English lavender) with Bee
Lavandula angustifolia (Common or English lavender) with Bee
Lavandula angustifolia (Common or English lavender) with Bee
Lavandula angustifolia (Common or English lavender) with Large Skipper butterfly
Lavandula angustifolia (Common or English lavender) with Large Skipper butterfly
Lavandula stoechas (French lavender)
Lavatera (Tree mallow)
Lavatera (Tree mallow)
Leaf miner
Lemon
Lemon
Lemon
Lemon
Leucanthemum x superbum
Leucophyta brownii (Cushion bush)
Leucophyta brownii (Cushion bush)
Lichen on oak branch
Lichen on oak branch
Lilium (Asiatic Lily)
Lilium (Asiatic Lily)
Lilium 'Orange Pixie' (Asiatic Lily)
Lilium oriental 'Robina'
Lilium 'Red Dwarf' (Lily)
Lilium 'Red Dwarf' (Lily)
Lilium 'Red Dwarf' (Lily)
Lilium 'Red Dwarf' (Lily)
Lilium 'Red Dwarf' (Lily)
Lilium 'Red Dwarf' (Lily)
Lilium 'Red Dwarf' (Lily) - Bulb
Lily beetle
Lily beetle
Lily beetle
Lily beetle
Lily beetle
Lobelia erinus
Lobelia erinus
Lobelia erinus
Lobelia erinus
Lobelia erinus
Lobelia erinus
Log pile
Lonicera (Honeysuckle)
Lonicera (Honeysuckle)
Lonicera (Honeysuckle)
Lonicera (Honeysuckle)
Lonicera pileata (Privet honeysuckle)
Lotus corniculatus (Bird's-foot-trefoil)
Lotus corniculatus (Bird's-foot-trefoil)
Lotus corniculatus (Bird's-foot-trefoil)
Lunaria annua (Honesty)-0
Lunaria annua, syn. L. biennis (Honesty)
Lunaria annua, syn. L. biennis (Honesty)
Lunaria annua, syn. L. Biennis (Honesty)
Lunipus (Lupin)
Lunipus (Lupin)
Lunipus (Lupin)
Lunipus (Lupin)
Lunipus (Lupin)
Lunipus (Lupin)
Lunipus (Lupin)
Lunipus (Lupin)
Lunipus (Lupin)
Lunipus (Lupin)
Lunipus (Lupin)
Lupin
Lupin
Lupin
Lupin
Lupin seed pod
Lychnis coronaria (Rose Campion)
Lychnis coronaria (Rose Campion)
Lychnis coronaria (Rose Campion, Dusty Miller)
Lychnis coronaria alba (White rose Campion)
Lychnis coronaria alba (White rose Campion)
Lycopersicum esculentum (Tomato)
Lycopersicum esculentum (Tomato)
Lycopersicum esculentum (Tomato)
Lycopersicum esculentum (Tomato)
Lycopersicum esculentum (Tomato) 'Gardener's Delight'
Lycopersicum esculentum (Tomato) 'Gardener's Delight'
Lycopersicum esculentum (Tomato) 'Gardener's Delight'
Lycopersicum esculentum (Tomato) 'Gardener's Delight'
Lycopersicum esculentum (Tomato) 'Gardener's Delight'
Lycopersicum esculentum (Tomato) 'Gardener's Delight'
Lycopersicum esculentum (Tomato) 'Gardener's Delight'
Lycopersicum esculentum (Tomato) 'Gardener's Delight' - fruit splitting
Lycopersicum esculentum (Tomato) in flower
Lysichiton americanus (Skunk cabbage)
Magnolia
Magnolia
Magnolia
Magnolia
Mahonia japonica
Mahonia japonica
Mahonia japonica
Mahonia japonica
Mahonia japonica
Mahonia japonica
Making leaf mould
Making leaf mould
Making leaf mould (1)
Making leaf mould (10)
Making leaf mould (11)
Making leaf mould (12)
Making leaf mould (13)
Making leaf mould (14)
Making leaf mould (15)
Making leaf mould (16)
Making leaf mould (17)
Making leaf mould (2)
Making leaf mould (3)
Making leaf mould (4)
Making leaf mould (5)
Making leaf mould (6)
Making leaf mould (7)
Making leaf mould (9)
Malus domestica (Apple)
Malus domestica (Apple)
Malus domestica (Apple)
Malus domestica (Apple)
Malus domestica (Apple)
Malus domestica (Apple)
Malus domestica (Apple)
Malus domestica (Apple) - fan trained
Malus domestica (Apple) - fan trained
Malus domestica 'Bramley's Seedling' (Apple)
Malus domestica 'Bramley's Seedling' (Apple)
Malus domestica 'Bramley's Seedling' (Apple)
Maybug, cockchafer (Melolontha melolontha)
Meconopsis cambrica (Welsh poppy)
Mentha aquatica (Water mint)
Mentha aquatica (Water mint)
Mildew on melon plant
Mixed border
Mixed border
Mixed border at Hampton Court Palace
Moss in the lawn
Moss in the lawn
Muscari armericanum (Grape hyacinth)
Muscari armericanum (Grape hyacinth)
Muscari armericanum (Grape hyacinth)
Mushroom
Mushroom
Mushroom
Mushroom
Mushroom
Mushroom
Mushroom poss. Boletus luridus
Myosotis scorpioides (Water forget-me-not)
Myosotis scorpioides (Water forget-me-not)
Myosotis scorpioides (Water forget-me-not)
Nandina domestica (Heavenly Bamboo)
Narcissus (Daffodil)
Narcissus (Daffodil)
Narcissus (Daffodil)
Narcissus (Daffodil)
Narcissus (Daffodil)
Narcissus (Daffodil)
Narcissus (Daffodil)
Narcissus (Daffodil)
Narcissus (Daffodil)
Narcissus (Daffodil)
Narcissus (Daffodil)
Narcissus (Daffodil)
Narcissus (Daffodil)
Narcissus (Daffodil)
Narcissus (Daffodil)
Narcissus (Daffodil)
Narcissus (Daffodil)
Narcissus (Daffodil)
Narcissus (Daffodil) bulb planting
Narcissus (Daffodil) 'Camelot'
Narcissus (Daffodil) 'Camelot'
Narcissus (Daffodil) 'Camelot'
Narcissus (Daffodil) 'Pheasant Eye' AGM
Narcissus (Daffodil) 'Pheasant Eye' AGM
Narcissus (Daffodil) 'Pheasant Eye' AGM
Narcissus 'Tête-à-tête' (Daffodil)
Narcissus 'Tête-à-tête' (Daffodil)
Narcissus 'Tête-à-tête' (Daffodil)
Narcissus 'Tête-à-tête' (Daffodil)
Narcissus 'Tête-à-tête' (Daffodil)
Narcissus 'Tête-à-tête' (Daffodil)
Narcissus 'Tête-à-tête' (Daffodil)
Narcissus 'Tête-à-tête' (Daffodil)
Narcissus 'Tête-à-tête' (Daffodil)
Narcissus 'Tête-à-tête' (Daffodil)
Narcissus 'Tête-à-tête' (Daffodil)
Narcissus 'Tête-à-tête' (Daffodil)
New Guinea impatiens
New Guinea impatiens
Nicotiana (Tobacco plant)
Nicotiana (Tobacco plant)
Nicotiana (Tobacco plant)
Nicotiana sylvestris (Tobacco plant)
Nigella damascena (Love-in-a-mist)
Nigella damascena (Love-in-a-mist)
Nigella damascena (Love-in-a-mist)
Nigella damascena (Love-in-a-mist)
Nigella damascena (Love-in-a-mist) seed pod
Nigella damascena 'Miss Jekyll' (Love-in-a-mist)
Nigella damascena 'Miss Jekyll' (Love-in-a-mist)
Nigella damascena 'Miss Jekyll' (Love-in-a-mist)
Nymphaea (Water lily)
Nymphaea (Water lily)
Nymphaea (Water lily)
Ocimum basilicum (Basil, Sweet basil)
Ophiopogon planiscapus 'Nigrescens' AGM (Lilyturf)
Orchid
Orchid
Orchid
Ornamental grass
Osmanthus x burkwoodii, syn. x Osmarea burkwoodii
Osteospermum (Cape marigold, Cape daisy, Rain daisy, African daisy)
Osteospermum 'Summertime Deep Purple' (Cape marigold, Cape daisy, Rain daisy, African daisy)
Osteospermum 'Summertime Pink Charm' (Cape marigold, Cape daisy, Rain daisy, African daisy)
Osteospermum 'Summertime Pink Charm' (Cape marigold, Cape daisy, Rain daisy, African daisy)
Oxalis articulata (Shamrock)
Oxalis articulata (Shamrock)
Paeonia delavayi (Tree peony)
Paeonia lutea var. ludlowii (Tree peony)
Paeonia lutea var. ludlowii (Tree peony)
Paeonia suffruticosa 'Yoshinogawa' (Peony)
Pale tussock caterpillar
Palm
Palm
Palm
Palm
Palm House at Royal Botanic Gardens. Kew
Papaver (Poppy)
Papaver (Poppy)
Papaver orientale (Ornamental poppy)
Papaver orientale (Ornamental poppy)
Papaver orientale 'Allegro'
Papaver orientale 'Allegro'
Papaver somniferum (Poppy)
Passiflora caerulea (Passion flower)
Patio planter
Patio planter
Patio planter with a lilac theme
Patio planter with a lilac theme
Patio planter with a white theme
Pelargonium (Geranium)
Pelargonium (Geranium)
Pelargonium (Geranium)
Pelargonium (Geranium)
Pelargonium (Geranium)
Pelargonium (Geranium)
Pelargonium (Geranium) - mass planting
Pelargonium Ivy-leaved hybrid (Geranium)
Pelargonium Ivy-leaved hybrid (Geranium)
Pelargonium Ivy-leaved hybrid (Geranium) - plant plugs
Pelargonium Ivy-leaved hybrid 'Eastbourne Beauty' (Geranium)
Penstemon
Penstemon
Pentaglottis sempervirens (Green Alkanet)
Pentaglottis sempervirens (Green Alkanet)
Pentaglottis sempervirens (Green Alkanet)
Petunia
Petunia
Petunia
Petunia
Petunia
Petunia
Petunia
Petunia
Petunia
Petunia
Petunia
Phaseolus vulgaris (Runner bean)
Phaseolus vulgaris (Runner bean)
Phaseolus vulgaris (Runner bean)
Phaseolus vulgaris (Runner bean)
Phaseolus vulgaris (Runner bean)
Philadelphus (Mock orange)
Philadelphus (Mock orange)
Philadelphus (Mock orange)
Philadelphus (Mock orange)
Philadelphus (Mock orange)
Philadelphus (Mock orange)
Philadelphus (Mock orange)
Philadelphus 'Sybille' (Mock orange)
Philadelphus 'Sybille' (Mock orange)
Philadelphus 'Sybille' (Mock orange)
Philadelphus 'Sybille' (Mock orange)
Photinia x fraseri 'Red Robin' (Christmas Berry, Fraser Photinia)
Photinia x fraseri 'Red Robin' (Christmas Berry, Fraser Photinia)
Photinia x fraseri 'Red Robin' (Christmas Berry,Fraser Photinia)
Pieris formosa var. Forrestii 'Wakehurst'
Pieris formosa var. Forrestii 'Wakehurst'
Pinching out side shoots from cordon tomatoes (1)
Pinching out side shoots from cordon tomatoes (2)
Pinching out side shoots from cordon tomatoes (3)
Pinching out tomatoes
Pinching out tomatoes
Pinching out tomatoes
Piptoporus betulinus (Birch polypore, bracket or birch fungus )
Piptoporus betulinus (Birch polypore, bracket or birch fungus )
Piptoporus betulinus (Birch polypore, bracket or birch fungus )
Pisum sativum (Pea)
Plantago lanceolata (Ribwort)
Plantago lanceolata (Ribwort, Fighting cocks)
Plumbago auriculata syn. P. capensis (Cape leadwort)
Plumbago auriculata syn. P. capensis (Cape leadwort)
Plumbago auriculata syn. P. capensis (Cape leadwort)
Plumbago auriculata syn. P. capensis (Cape leadwort)
Polygonatum (Solomon's Seal)
Polypodium vulgare (Fern) spores
Polypodium vulgare (Fern) spores
Polypodium vulgare (Fern) spores
Pond
Pond cover
Pond cover
Pond cover to protect the fish from the heron, and the pond from the children.
Pond waterfall
Potting on 1
Potting on 2
Potting on 3
Potting on 4
Potting on 5
Praying matis
Pricking out
Primula
Primula
Primula
Primula
Primula
Primula
Primula
Primula
Primula
Primula
Primula
Primula
Primula
Primula
Primula
Primula
Primula
Primula
Primula
Primula
Primula
Primula
Primula
Primula 'Candelabra' (Candelabra primula )
Primula 'Candelabra' (Candelabra primula )
Primula 'Candelabra' (Candelabra primula )
Primula denticulata (Bog primula, Drumstick primrose)
Primula denticulata (Bog primula, Drumstick primrose)
Primula denticulata (Bog primula, Drumstick primrose)
Primula japonica
Primula vulgaris (Primrose, Common primrose, English primrose)
Prunus domestica 'Victoria' (Victoria plum)
Prunus laurocerasus (Laurel)
Prunus spinosa (Blackthorn)
Pulmonaria
Pulmonaria
Pulmonaria
Pulmonaria
Pulmonaria
Pulmonaria
Pyracantha 'Orange Glow' (Firethorn)
Pyracantha 'Orange Glow' (Firethorn)
Pyracantha 'Orange Glow' (Firethorn)
Pyracantha 'Orange Glow' (Firethorn)
Pyracantha rogersiana 'Flava'
Pyracantha rogersiana 'Flava'
Pyracantha rogersiana 'Flava'
Quercus robur (Common oak)
Quercus robur (Common oak) - covered in snow
Quercus robur (Common oak) - covered in snow
Quercus robur (Common oak) with Knopper oak gall caused by the wasp Cynips calicis
Quercus robur (Common oak) with oak apple gall
Quercus robur (Common oak) with spangle gall
Quercus robur (Oak) tree
Quercus robur (Oak, English oak, Common oak)
Quercus robur (Oak, English oak, Common oak)
Quercus robur (Oak, English oak, Common oak)
Quercus robur (Oak, English oak, Common oak) covered with a blanket of snow
Quercus rubra (Red oak)
Quercus rubra (Red oak)
Quercus rubra (Red oak)
Ranunculus (Buttercup)
Ranunculus repens (Buttercup, Creeping Buttercup)
Regal pelargonium
Rhamnus alaternus 'Argenteovariegata' (AGM)
Rheum palmatum (Rhubarb) leaves
Rhododendron
Rhododendron
Rhododendron
Rhododendron
Rhododendron
Rhododendron
Rhododendron
Rhododendron
Rhododendron
Rhododendron
Rhododendron
Rhododendron
Rhododendron
Rhododendron
Rhododendron
Rhododendron 'Everestianum'
Rhododendron 'Everestianum'
Rhododendron 'Hugh Koster'
Rhododendron 'John Cairns'
Rhododendron 'John Cairns'
Rhododendron 'Porzellan'
Rhododendron 'Snow Hill'
Rhus typhina (Stag's Horn Sumach)
Rhus typhina (Stag's Horn Sumach)
Ribes nigrum (Blackcurrant)
Ribes nigrum (Blackcurrant)
Ribes nigrum (Blackcurrant)
Ribes nigrum (Blackcurrant)
Ribes rubrum (Redcurrant) included in The Growing Tastes Allotment Garden, from Wincester Growers the were awarded a Gold medal and Best in Show for their garden.
Ribes sanguineum (Pink flowering currant)
Ribes sanguineum (Pink flowering currant)
Ribes sanguineum (Pink flowering currant)
Ribes sanguineum (Pink flowering currant)
Ribes sanguineum (Pink flowering currant)
Ribes sanguineum (Pink flowering currant)
Ribes sanguineum v. Glutinosum (Pink flowering currant)
Ribes sanguineum v. Glutinosum (Pink flowering currant)
Rock Garden
Roof Garden
Rope trellis
Rosa (Rose)
Rosa (Rose)
Rosa (Rose)
Rosa (Rose)
Rosa (Rose)
Rosa (Rose)
Rosa 'Ballerina' (Polyantha rose)
Rosa 'Birthday Girl' syn. Rosa 'Meilasso' (Floribunda)
Rosa canina (Dog rose)
Rosa 'Diamond' syn Rosa 'Korgazell' (Patio rose)
Rosa 'Sweet Chariot' (Rose)
Rosa 'Sweet Chariot' (Rose)
Rosa 'Sweet Chariot' (Rose)
Rose hips
Rose moss
Rose Perpétué
Rosehips over water
Rosmarinus officinalis (Rosemary)
Rosmarinus officinalis (Rosemary)
Rubus (Blackberry, Bramble)
Rubus (Blackberry, Bramble)
Rubus (Blackberry, Bramble)
Rudbeckia hitra 'Rustic Dwarf'
Russelia equisetiformis (Coral plant)
Salvia officinalis 'Purpurascens' (Purple sage)
Saxifraga x arendsii
Scabiosa (Scabious, Pincushion flower)
Scabiosa (Scabious, Pincushion flower)
Scabiosa (Scabious, Pincushion flower)
Scabiosa (Scabious, Pincushion flower)
Scabiosa atropurpurea 'Chile Black'
Scabiosa atropurpurea 'Chile Black'
Sedum spathulifolium 'Cape Blanco' syn. Hylotelephium sieboldi 'Variegatum'
Sedum spectabile, syn. Hylotelephium (Ice-plant)
Sedum spectabile, syn. Hylotelephium (Ice-plant)
Sedum spectabile, syn. Hylotelephium (Ice-plant)
Seed propagation
Seed propagation
Seedling (Tomato)
Seedling (Tomato)
Seedling (Tomato)
Sempervivum (Houseleek)
Sheild bug
Sheild bug
Sheild Bug
Shield bug on clematis
Silene uniflora 'Robin Whitebreast' (Sea Campion 'Robin Whitebreast')
Sisyrinchium bellum (Blue Eyed grass)
Sisyrinchium striatum (Satin flower)
Sisyrinchium striatum (Satin flower)
Sisyrinchium striatum (Satin flower)
Skimmia japonica 'Rubella'
Skimmia japonica 'Rubella'
Slow worm
Slow worm
Slug
Slug
Slug
Slug
Slug
Slug
Slug
Slug
Slugs
Small baby spiders
Small water feature
Small water feature
Solanum (Nightshade)
Solanum (Nightshade)
Solanum (Nightshade)
Solenostemon aromatica hybrid
Solenostemon aromatica hybrid (Coleus)
Sorbus aucuparia (Mountain ash, Rowan)
Sorbus aucuparia (Mountain ash, Rowan)
Spathiphyllum cochlearispathum (Peace Lily)
Spathiphyllum cochlearispathum (Peace Lily)
Spider
Spider
Spider
Spider
Spiraea japonica
Spiraea japonica 'Gold Flame'
Spiraea japonica 'Gold Flame'
Spiraea japonica 'Gold Flame'
Spiraea japonica 'Gold Flame'
Spiraea nipponica 'Snowmound'
Split tomato due to infrequent watering
Split tomato due to infrequent watering
Squirrel
Squirrel
Stag beetle (Adult)
Stag beetle (Larva/grub)
Stag beetle (Larva/grub)
Stellaria holostea (Greater Stitchwort, Addersmeat)
Stellaria holostea (Greater Stitchwort, Addersmeat)
Strawberry - ripening fruit
Strawberry - ripening fruit
Strawberry - ripening fruit
Strawberry flowers
Strawberry in a hanging basket
Succulent
Summer bedding planter
Summer chafer (Amphimallon solstitialis)
Sweet chestnut tree
Syringa (Lilac)
Syringa (Lilac)
Syringa (Lilac)
Syringa (Lilac)
Syringa (Lilac)
Tanacetum argenteum syn. Achillea argentea
Taraxacum officinale (Dandelion) 'clock'
Taxus baccata (Yew)
Taxus baccata (Yew)
Temperate House at Royal Botanic Gardens Kew
The Katherine of Aragon garden, designed by Graham Burgess, it was awarded a Bronze medal. As part of the Six Wives of Henry VIII show gardens at the 2009 Hampton Court Palace Flower Show.
The Katherine Parr garden, designed by Yvonne Mathews, it was awarded a Silver medal. As part of the Six Wives of Henry VIII show gardens at the 2009 Hampton Court Palace Flower Show. It was a 'Mary' garden, a garden where each plant has a connection to the Virgin Mary.
The Katherine Parr garden, designed by Yvonne Mathews, it was awarded a Silver medal. As part of the Six Wives of Henry VIII show gardens at the 2009 Hampton Court Palace Flower Show. It was a 'Mary' garden, a garden where each plant has a connection to the Virgin Mary.
The Katherine Parr garden, designed by Yvonne Mathews, it was awarded a Silver medal. As part of the Six Wives of Henry VIII show gardens at the 2009 Hampton Court Palace Flower Show. It was a 'Mary' garden, a garden where each plant has a connection to the Virgin Mary.
These stained glass windows are from the Katherine Parr garden, designed by Yvonne Mathews. As part of the Six Wives of Henry VIII show gardens at the 2009 Hampton Court Palace Flower Show. The three stained glass windows, include the crest of Katherine Parr, on the right, the virgin Mary in the middle and the crest of Henry VIII on the left
This water feature was installed in the I Promise garden, designed by Year 6 of the St. John the Divine Primary School, at Hampton Court Flower Show 2009, where it was awarded a Silver-Gilt
Thumus vulgaris (Thyme)
Thyme bed, part of the Katherine Howard garden, designed by Philippa O'Brien which was awarded a Silver-Gilt. It was part of the Six Wives of Henry VIII show gardens at the 2009 Hampton Court Palace Flower Show.
Thymus vulgaris (Thyme)
Trametes versicolor (Turkeytail)
Trametes versicolor (Turkeytail)
Trametes versicolor (Turkeytail)
Tree trunk
Trees covered in snow
Trees covered in snow
Trifolium repens (Clover)
Trifolium repens (Clover)
Trifolium repens (Clover)
Trifolium repens (Clover)
Trifolium repens (Clover)
Trifolium repens (Clover)
Trifolium repens (Clover)
Trifolium repens (Clover)
Tropaeolum (Nasturtium)
Tropaeolum (Nasturtium)
Tropaeolum (Nasturtium)
Tropaeolum (Nasturtium)
Tropaeolum (Nasturtium)
Tropaeolum majus (Nastutium)
Tropical Garden
Tulip
Tulip
Tulip
Typha latifolia (Bulrush)
Ulex europaeus (Common Gorse)
Ulex europaeus (Common Gorse)
Variegated standard holly, part of the Anne of Cleves garden, designed by Fiona Bailey which was awarded a Bronze. It was part of the Six Wives of Henry VIII show gardens at the 2009 Hampton Court Palace Flower Show.
Venus Fly Trap
Verbena
Verbena 'Waterfall Mixed'
Viburnum
Viburnum and cherry blossom
Viburnum carlesii
Viburnum carlesii
Viburnum carlesii
Viburnum carlesii
Viburnum carlesii
Viburnum carlesii
Viburnum carlesii
Viburnum carlesii
Viburnum opulus (Guelder Rose) berries
Viburnum opulus (Guelder Rose) berries
Viburnum plicatum (Japanese Snow Ball Bush)
Vinca major subsp hirsuta (Large Periwinkle, Greater Periwinkle)
Vinca minor (Common periwinkle, Lesser periwinkle)
Vinca minor (Common periwinkle, Lesser periwinkle)
Vinca minor (Common periwinkle, Lesser periwinkle)
Vine weevil - adult
Vine weevil - adult
Vine weevil - adult
Vine weevil - adult
Vine weevil - adult
Vine weevil - juvenile
Viola (Pansy)
Viola (Pansy)
Viola (Pansy)
Viola (Pansy)
Viola (Pansy)
Viola (Pansy)
Viola (Pansy)
Viola (Pansy)
Viola (Pansy) - yellow with blotch
Viola odorata (Sweet violet, pansy)
Viola odorata (Sweet violet, pansy)
Viola x wittrockiana (Pansy - ripe seed pod)
Viola x wittrockiana (Pansy with open seed pod)
Viola x wittrockiana (Pansy)
Viola x wittrockiana (Pansy)
Viola x wittrockiana (Pansy)
Viola x wittrockiana F1 Pure White (Pansy)
Viola x wittrockiana F1 Pure White (Pansy)
Viola x wittrockiana F1 Rose (Pansy)
Viola x wittrockiana F1 Rose (Pansy)
Viola x wittrockiana F1 Rose (Pansy)
Viola x wittrockiana F1 Rose (Pansy)
Washingtonia robusta
Washingtonia robusta (Fan palm)
Washingtonia robusta (Fan palm)
Washingtonia robusta (Fan palm)
Water Snail
Water spouts in the grounds of Cowley Manor
Waterfall
Waterlily
Waterlily
Waterlily
Wier at Cowley Manor
Wild garlic
Wild garlic
Wildflower Display
Wildflower Display
Wildflower Display
Wildflower Display
Wisteria
Wisteria
Wisteria
Wisteria
Wisteria brachybotrys 'Shiro Kapitan'
Wisteria brachybotrys 'Shiro Kapitan'
Woodlouse
Woods in late spring
Wooly aphid on beech leaf
x Halimiocistus 'Ingwersenii' (Sea rock rose, Cistus, Rock rose)
x Halimiocistus 'Ingwersenii' (Sea rock rose, Cistus, Rock rose)
x Halimiocistus 'Ingwersenii' (Sea rock rose, Cistus, Rock rose)
x Halimiocistus 'Ingwersenii' (Sea rock rose, Cistus, Rock rose)
Yucca aloifolia (Spanish bayonet)
Yucca aloifolia (Spanish bayonet)
Yucca aloifolia (Spanish bayonet)
Yucca aloifolia (Spanish bayonet)
Zantedeschia
Zantedeschia aethiopica (Arum lily)
Zantedeschia aethiopica (Arum Lily, Calla Lily)
Zantedeschia albomaculata (Calla Lily, Arum Lily)
Zantedeschia albomaculata (Calla Lily, Arum Lily)